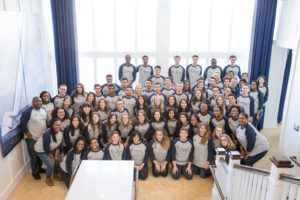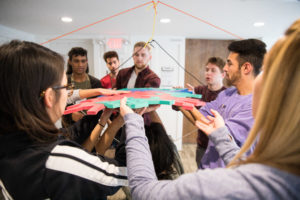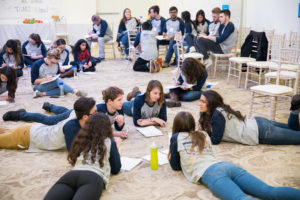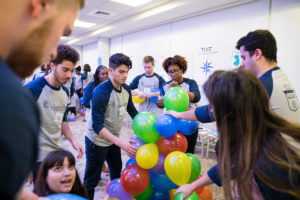 The College of New Jersey will be holding a campus based session of the The LeaderShape® Institute for the fourth time in January 2020.  LeaderShape® is six day five night interactive and engaging leadership program.  The program will teach students to develop their leadership skills, how to work with others in small groups and how to develop into visionary leaders.  The program is highly interactive with large group and small group activities within their "Family Cluster".  Each of the six days has a theme and throughout the course of the week students will develop a "LeaderShape Breakthrough Blueprint." The LeaderShape Breakthrough Blueprint is a well-conceived vision and plan of action for the participants to implement in their organization, community, or workplace.  The deadline for the 2020 Leadershape will be release during the fall of 2019.
ARE YOU LOOKING TO BE 2020 LEADERSHAPE ONSITE COORDINATOR? 
Apply HERE! Applications due at MIDNIGHT on FEBRUARY 20th 2019!
What is LeaderShape®?
LeaderShape® is a nationally recognized six-day experience that challenges participants to explore identity development and inclusive leadership. Students work towards developing a blueprint plan that includes discussions on how to lead with integrity™ and have a healthy disregard for the impossible.
When is the LeaderShape® Institute being held?
The program will during January 2020. Exact dates TBA.
Where is the LeaderShape® Institute held?
Avalon, New Jersey at The Golden Inn.
What is the cost?
No cost to you!
How many participants are selected?
60 students are selected
How are participants selected?
There is an application process.  The application deadline for this year has passed.
How do I get to the LeaderShape® Institute?
A bus will be bringing participants to camp from TCNJ
How do I apply?
There will be an online application available in the Fall.
Do I need to have prior leadership experience to attend LeaderShape®?
No! LeaderShape® is open to all students who are interested and dedicated to learning about leadership and how to become a better leader.  NO PRIOR EXPERIENCE NECESSARY!
Please contact the Leadership Office at Leadership@tcnj.edu with any questions
Some quotes from our students after completing the program are
"Throughout the week I learned the makings of being a leader. LeaderShape® challenged me to think beyond myself and that there is no such thing as impossible. What surprised me the most was self-discovery and the huge impact I could have on someone's life if I only allow myself to.  Upon returning from the institute, I found myself putting what I was taught into action in my everyday life."

Jasmine Boddie '15, Executive Board Member for Black Student Union
"I had a really good experience at LeaderShape®. Coming out of my Freshman year for whatever reason I had been feeling unmotivated and kind of distraught over where my leadership skills would be most utilized at TCNJ. That being said, LeaderShape® helped spark my motivation and focused me on an issue at TCNJ that I believe should be addressed. " – Victoria Mazzola '17, TCNJ Sophomore Class Vice President
"This week was extremely eye opening! I've been able to discover my core values and my vision for the world!" – Michele Leao '15, Vice President of Leadership Development Program