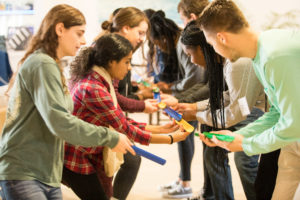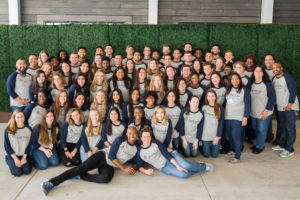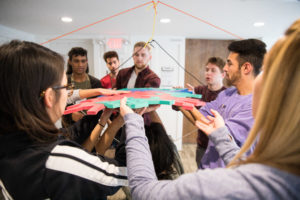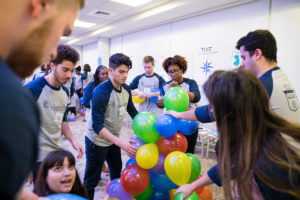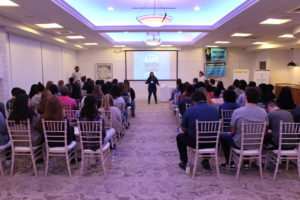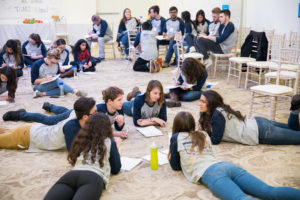 The College of New Jersey will be holding a campus based session of the The LeaderShape® Institute this winter at The College of New Jersey..  LeaderShape® is four day interactive and engaging leadership program.  The program will teach students to develop their leadership skills, how to work with others in small groups and how to develop into visionary leaders.  The program is highly interactive with large and small group activities within their "Family Cluster." Each of the days has a theme, and throughout the course of the week, students will develop a "LeaderShape Breakthrough Blueprint." The LeaderShape Breakthrough Blueprint is a well-conceived vision and plan of action for the participants to implement in their organization, community, or workplace.
What is LeaderShape®?
LeaderShape® is a nationally recognized four-day experience that challenges participants to explore identity development and inclusive leadership. Students work towards developing a blueprint plan that includes discussions on how to lead with integrity™ and have a healthy disregard for the impossible.
When is the LeaderShape® Institute being held?
The program will be held during January 6-9, 2024.
Where is the LeaderShape® Institute held?
The College of New Jersey
What is the cost?
No cost to you!
How many participants are selected?
40 students are selected
How are participants selected?
There is an online application. Please click here to apply.   The application deadline for 2024 is November 1, 2023.
How do I get to the LeaderShape® Institute?
Leadershape Institute will take place at TCNJ on campus
How do I apply?
Apply online here! The deadline is November 1, 2023
Do I need to have prior leadership experience to attend LeaderShape®?
No! LeaderShape® is open to all students who are interested and dedicated to learning about leadership and how to become a better leader.  NO PRIOR EXPERIENCE NECESSARY!
Please contact the Leadership Office at Leadership@tcnj.edu with any questions
Some quotes from our students after completing the program are
"LeaderShape provided me with the skills and support to affirm my capabilities as a leader to become a leader in the campus community. Big thank you to the Office of Leadership for sponsoring this program!"
Colin Dwyer

"LeaderShape allowed me to connect with members of my campus community that I do not interact with on a regular basis. Together, we challenged ideas and imagined what our life would look like in a world of possibility."

Carolyn Carmody

"Going to LeaderShape was one of the most impactful experiences during my time at TCNJ. Not only did it allow me to meet peers in different parts of campus but it also allowed me to learn more about myself. The LeaderShape experience made me think outside the box regarding what leadership meant and I highly recommend it to anyone who is considering the institute."
Dylan Nguyen